IF YOU CAN'T MEASURE IT, YOU CAN't IMPROVE IT
IF YOU CAN'T MEASURE IT,
YOU CAN't IMPROVE IT
The promise of the web has always been data. The ability to understand exactly what customers like and don't like, how they interact with your website, and what makes them buy. Data allows you to better understand your customer, and provide them with an online experience that meets their needs.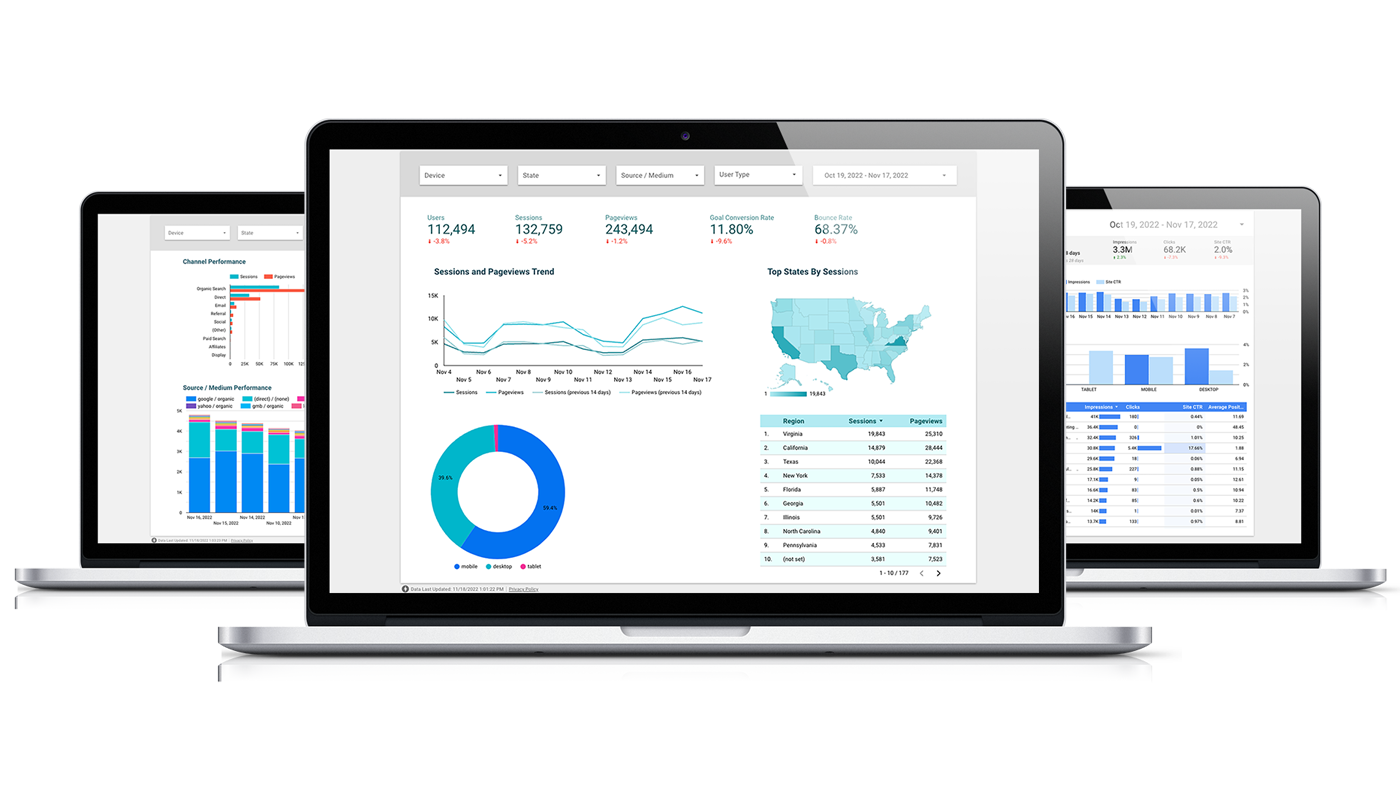 It's both art and science
Proper analytics and SEO strategy requires strategic, creative, and technical skills. From building effective user flows, defining keyword strategies, and implementing SEO best practices in the website's code, we have an experienced team with the broad expertise to create a winning strategy.
Analytics Audits
Google Analytics Integration
GA4 Migration
3rd Party Tag Integration
Custom Data Dashboards
SEO Optimization Audits
SEO Strategy
Page Rank Optimization
Google analytics & Dashboards
Google Analytics the industry standard for tracking, analyzing, and understanding your website's performance. It provides a wealth of features that can help businesses make better decisions. However, setting up and using Google Analytics can be complicated and time consuming, with intimidating standard reports and an overwhelming amount of data. Our custom dashboards distill your data into easy to digest reports focused on the KPIs that are most important to you, including site traffic, conversions, SEO keywords, Ad spend, and even pull in 3rd party advertising data.
Our Data Dashboards include:
Google
Analytics/Website Traffic
Display Ads
AdWords
Search Console

Paid & Organic Social
LinkedIn
TikTok
Facebook
Instagram
and more….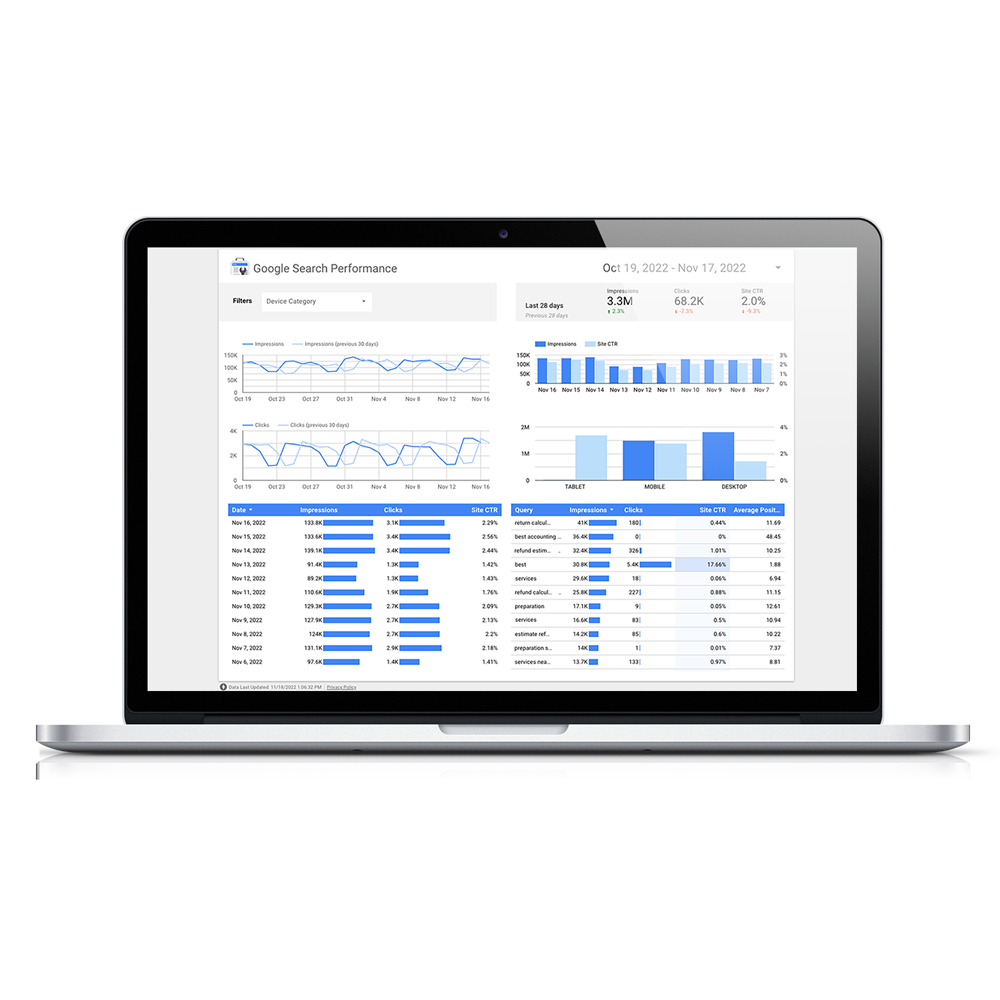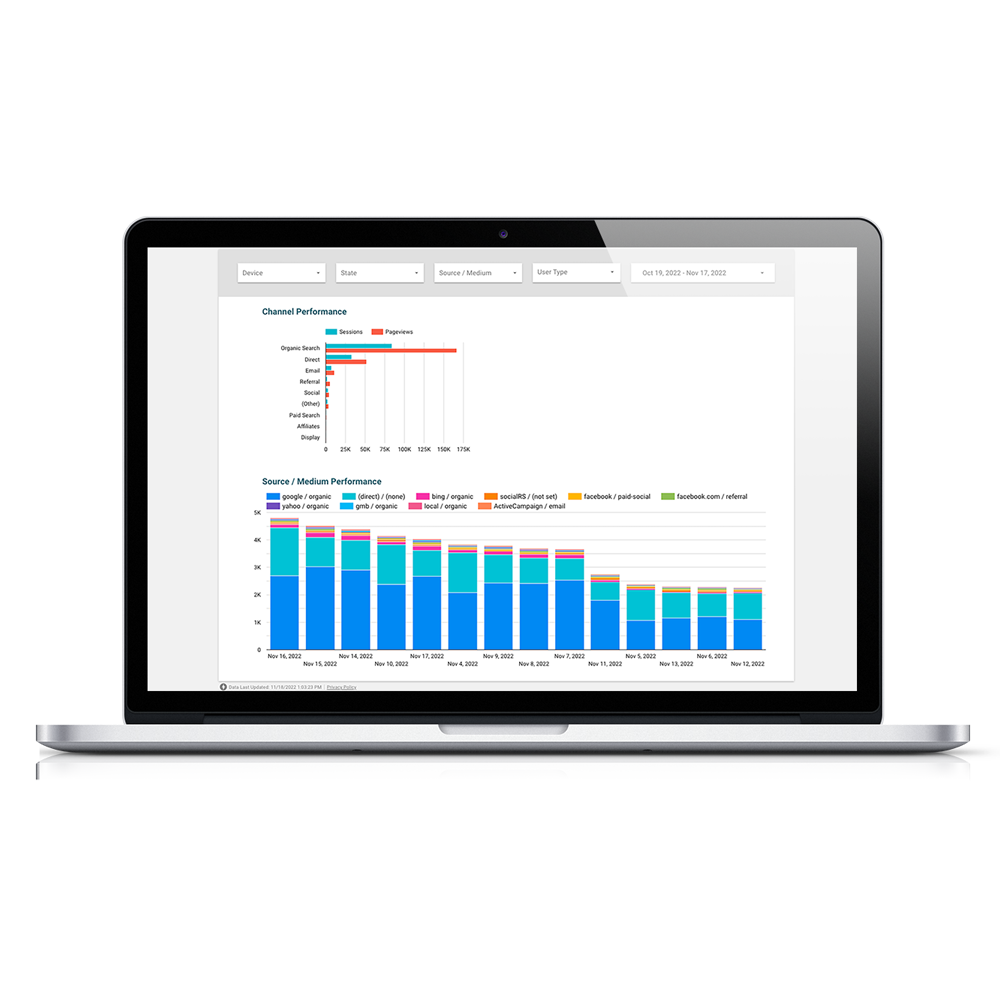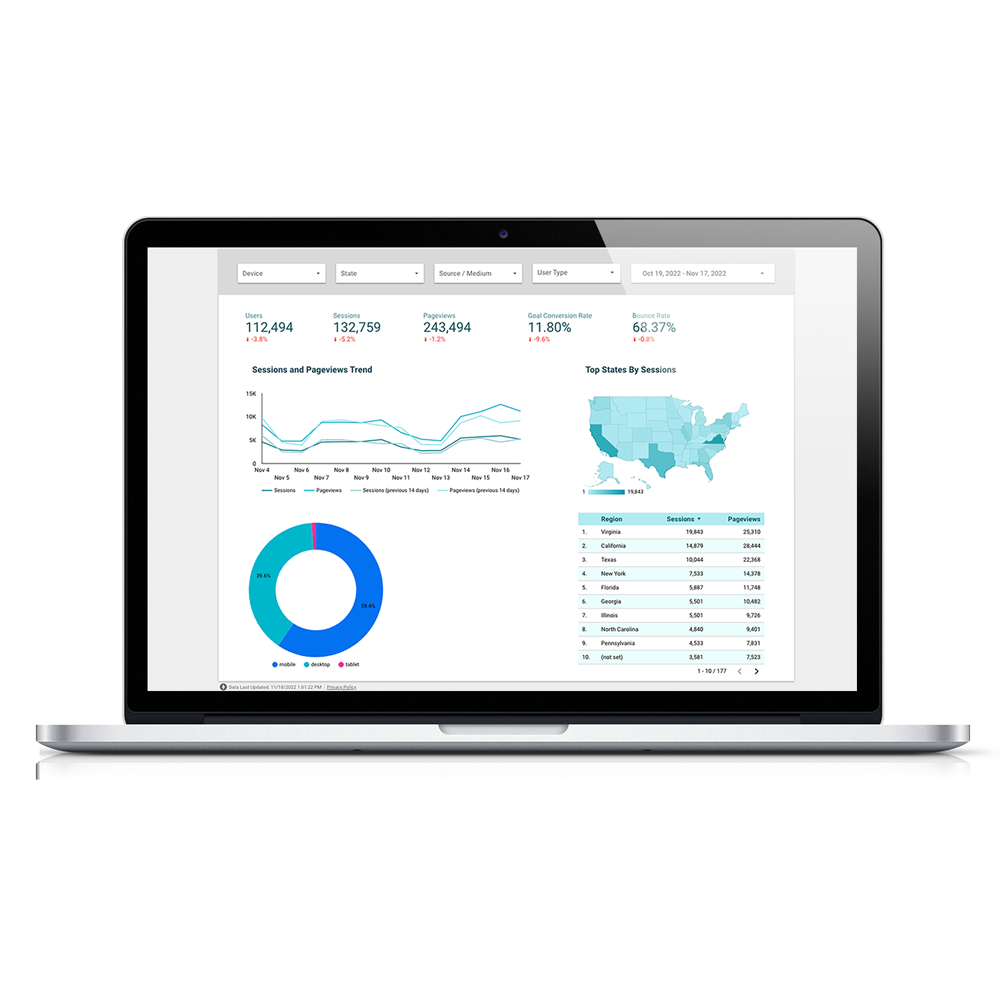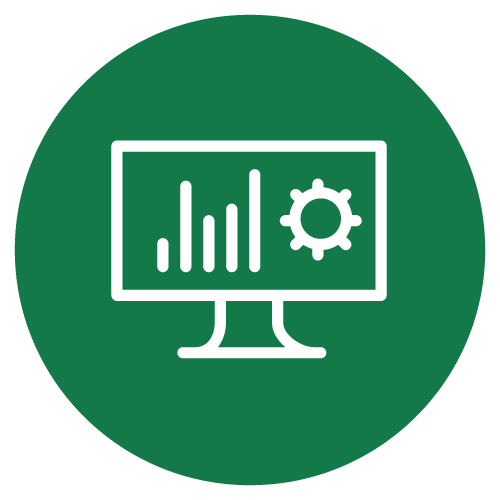 Over half of all website traffic originates with a customer typing into a search engine (let's be honest – it's Google). Ignoring your SEO Ranking means you're ignoring customers. Search Engine Optimization is built directly into every website we create. All of Google's best practice recommendations, from the required use of meta tags, to required use of image alt tags, to native WGAC and A11Y accessibility to make our sites usable by everyone.

We implement advanced SEO concepts, such as Google's Rich Results functionality and Schemas are built in standard.

SEO isn't a "one time thing" but an ongoing effort. We are continuously testing SEO on our platform ensuring fundamental SEO tags and compliance with WCAG and other accessibility standards are checked, and any optimizations are implemented, keeping your site at the top of Google's rankings.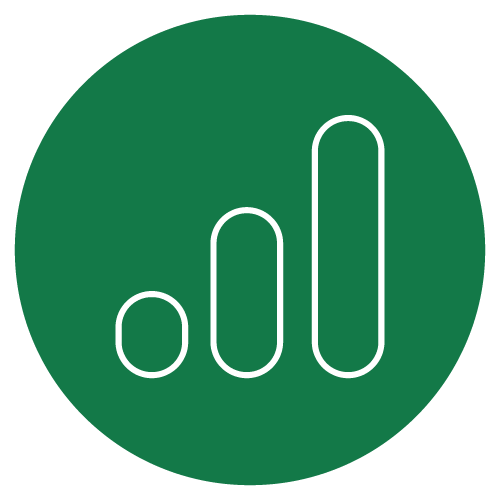 Tag implementation is critical for tracking sales attribution and conversions. We're experts in Google Tag Manager, the industry standard for pixel tracking, affiliate snippets and more. We can help simplify GTM maintenance by implementing a tracking system for each GTM tag, trigger, and variable deployed. Got 3rd Party Affiliates? We can track their activity as well. We can record when an incoming referred visitor arrives and later converts on your website. Receive a report on this activity at your preferred schedule, or can integrate a real time report for you in your Google Analytics dashboard.
"They are great to work with, very responsive, and I would highly recommend them."
Bonfire has been managing the FedArb web site for the past 3 years. They are great to work with, very responsive, and I would highly recommend them.
Modern Twig creates custom, hand-crafted cabinetry to replace standard IKEA cabinetry with a modern touch. We built out an elegant user experience that's easy to update and maintain with a custom Shopify integration.